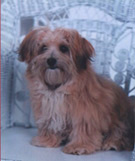 Lovable Companions
Janet & Larry Dilger
19406 N 800 E
Ferdinand, IN 47532
(812) 893-0281
(812) 582-0682
email: janetdilger@gmail.com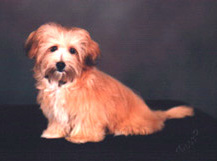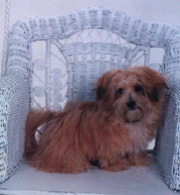 The year is 2004 and it is time for an update on the Ocherese. After 27 years of devoting our lives to the Ocherese my husband and myself can truly say we wouldnít change a thing. Our children are grown and are pursuing their life dreams. The one thing that stayed the same is our continued interest in developing these loving companions. They travel the world with their new familys and along with them is a small piece of my heart. People ask me how I can let them go. I truly believe that each new owner has been picked by God some stay with these families and some move on, but where ever they go they bring love and happiness to the people who have the privilege of meeting them. I never knew how true this was till we had an Ocherese reunion. Gathered together was over 100 Ocherese and their families. It is a day I will never forget. It was the first weekend of October 2002. I feared it would rain or be cold. The sun filled the sky and there was only a hint of fall in the air During the entire day we heard no barking or growling and it didnít take me long to figure out that they knew they were all one big family. They knew that they were in a place where they were loved. Each one individually loved for who they are. They all have their own personality and no two look excalty alike. The one thing they share is their ability to give unconditional love. If you have the privilege to own one people will stop you in the street to ask what type of dog you have. I really havenít figured out exclatly what makes them such show stoppers but I think it is in the way they communicate with their eyes. They pull you with those eyes and make you feel peace and tranquility. This is what they do for me for I need a lot of peace and tranquility in my life. A large part of my life is still dealing with major health problems but God has given me something most people donít have and it is an Ocherese by my side.
-- Janet Dilger